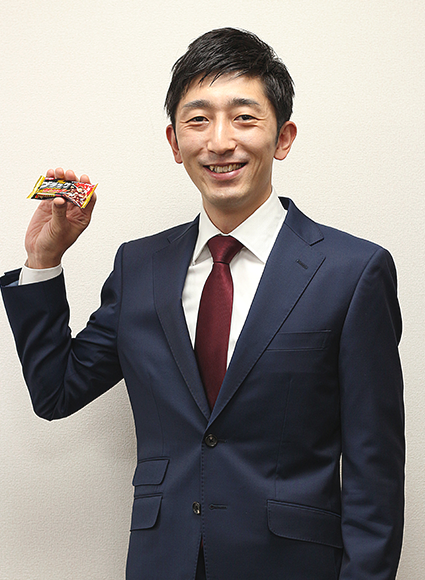 President: Tatsunobu Kawai
"Dream Flavors," a Unique Concept
Black Thunder, Popular Among
People with a Playful Spirit
Black Thunder, the top product offered by Yuraku Confectionery, has differentiated itself from other products by offering good value for money made up of its great taste and large serving size relative to its low price.
However, as chocolate consumers get older, health consciousness is prevailing. As a result, numerous high-added-value, high-priced products, such as high-cacao chocolate are now sold in stores. Therefore, in order to differentiate our products from competitors' ones, we believe that offering values other than good value for money is important.
One such values we want to emphasize is the use of Black Thunder as a tool for communication.
Black Thunder was renewed in 2017, and we shifted from our previous notion of "Black Thunder as candy" to "Black Thunder as a brand" as the basis for our activities. This allows us to use Black Thunder in a wide range of activities not related to candy, such as movies and events, and the brand gets more popular than ever among our target audience — people with a playful spirit.
Being a 10-Billion-Yen Business Makes It Possible
Yuraku Confectionery's sales have roughly tripled since the mid-2000s, and we have become a company with an annual turnover of ¥10 billion. To achieve further growth, we are working toward a variety of objectives in our different departments.
In Quality Control, we are conducting an initiative at our Toyohashi Dream Factory and Sapporo Factory to obtain FSSC 22000 certification sometime in FY2019. In Production, our core activity, we are actively carrying out improvement programs to reduce costs while maintaining quality control. In Marketing, we plan to actively pursue digital marketing and increase our engagement on social media. In Product Development, we are trying to strengthen our product lineup based on a better understanding of what consumers really want gained through our marketing research.
Furthermore, in our Special Sales Business, we would like to take advantage of direct sales and online sales where we can sell our products directly to customers and provide a place for demonstrating Yuraku Confectionery's unique character.
We plan to increase our product range further to include products produced for company stores with a real-time-production feeling, and products sold through online shopping that let customers experience the world of Black Thunder.
As the size of our company gets bigger, we become increasingly aware of our growing responsibilities toward society. For this reason, we continue to be actively engaged in CSR and other social contribution activities.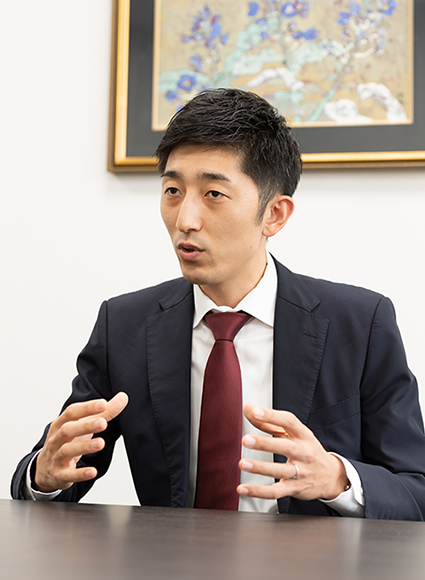 Expanding Sales Channels from Asia to Muslims Countries and the World
In our overseas business, we established a joint venture company in Singapore in 2017. This has opened up sales channels to Indonesia, Malaysia, and the Philippines. Since we will obtain halal certification by opening a production hub in Indonesia, we have started looking at business opportunities in the Muslims countrie. Additionally, we have set up a local sales company in Taiwan to improve our local marketing activities. We have been selling our products on a trial basis in the United States for several years.
In our Tourism Business, we are actively expanding our sales channels for Hokkaido souvenir products manufactured at our Sapporo Factory to sell them countrywide. Another initiative is to make an attempt at expanding the sales of souvenir products that had been made and sold at only three locations — Kodaira, Tokyo; Sapporo, Hokkaido; and Toyohashi, Aichi, where Yuraku Confectionery factories have been located — to other highly marketable locations in Japan.
Aiming to Become Japan's Most Exciting Confectioner
I was appointed as President of Yuraku Confectionery in February 2018 by inheriting the position from my father.
Despite the replacement, we keep our corporate philosophy of being a "business that produces dream-like confectionery that are both delicious and inexpensive," a principle that has guided our company since its founding.
To make it happen, Yuraku Confectionery aims to become "Japan's most exciting confectioner," a company where we excitedly work to create "dream flavors" that customers will enjoy. Furthermore, we want our customers to feel the satisfaction of receiving greater value while we continue to share unique ideas unrestrained by conventional frameworks as we become a company that is, and will continue to be, unique in the world.