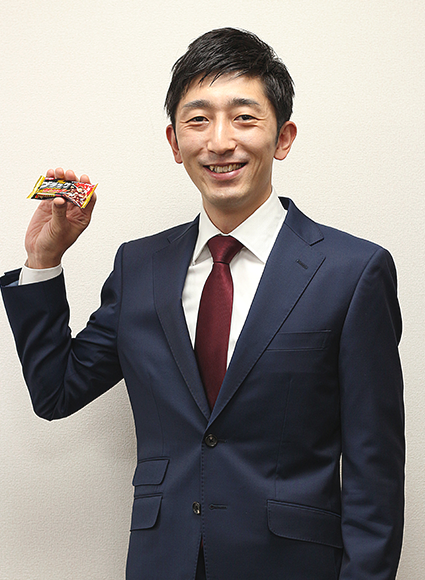 Executive chairman: Tomoharu Kawai
Is there a limit to our potential?
Can we keep on being a company that dreams of greater achievements?
For starters, we must adhere to our philosophy and stay on top of current trends.
It has been said for a long time that we are in an age without borders, but even the boundaries of the confectionary and food industries are still in the process of coming down. Of course, there are people who are concerned about the scale of the market contracting due to a population decrease and declining birth rates. However, if the food industry becomes borderless, it will actually welcome a limitless number of opportunities.

So, what should Yuraku Confectionary aim for going forward?
After the launch of Black Thunder in 1994, which was originally developed as an inexpensive candy, it went through some twisting and turning but ultimately became a massive hit among the younger generation and thankfully matured into our core product.Going forward, we must use our unique technology to expand our range of defense from this generation while responding to the keywords of this period, such as food diversification and health trends.
However, our management philosophy has been centered on being a "Business that produces dream-like confectionery that are both delicious and inexpensive."
Even though there currently is a growing interest in the function of food, what we should hold important above all is our original role as a confectionary manufacturer that "Brings out a smile with every bite," and concentrate on delivering that to as many people as possible.
Great flavor is universal, and we want to share Black Thunder with the world.
In 2011, we launched Black Thunder in convenient stores in Taiwan, and after that we have been expanding our overseas market such as in Thailand and the U.S. as the number of convenient stores are increasing. We get more and more offers from companies all over the world for launching Black Thunder. The idea of our dream-like confectionary reaching as many people as possible is continuing to spread throughout the world little by little. Right now, we are working quickly to establish local production locations in Islamic countries that require review of the material procurement and production processes due to religious reasons.

There was a time when we were particular about the consistency of the "Flavor, price and texture" in the market for inexpensive confectionary, and we dreamed of hit products for the brand "Yuraku Confectionary." Even though we were still a small company at that time, we offered our employees the opportunity to come together as one, empathize with one another and laugh together, and we used this spirit of camaraderie to deliver the best confectionary to the world.
Currently, our company does not have a specific office for the company president and embraces an approach where all employees work together in one big room. Although we have started down a path as a company with an annual turnover of ¥10 billion, we will keep holding onto our corporate roots. Yet, in this sense, we now feel the need to create a system to make it to the next stage.
What will the future require of us? What is our identity as a company?
Our mission as a manufacturer is to "Produce hit products that satisfy the customers" and "Manufacture with better efficiency and stable quality." These two points require nothing but the support of "people. Therefore, an environment must first be created so that the people who work there can shine. For example, creating a workplace where it is easy to work while raising children is one feature, and we also actively employ persons with disabilities.
The word "dream" that is used in our management philosophy does not just refer to "confectionery" but the "company" as well.
Striving to be a company "full of dreams" means becoming a company that all stakeholders involved including the employees dream of. To achieve this, we are improving our company not just by pursuing productivity and rationality, but also by striving to be a more enjoyable company that makes people happier while valuing the sensitivity of the people.